Bonjour,
Marie G est un X99 skippé par le norvégien Ketil Greve.
Sa participation à des régates nous permet de mieux cerner les performances de la voile de jonque face au Marconi/bermudien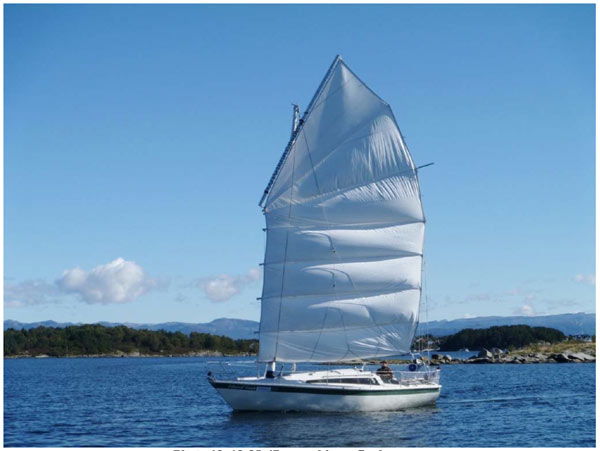 Le site J.R.A nous livre quelques informations précieuses :
Marie G: second race, August 2012
"I had the boat measured, and got a very good LYS of 1.18 for the Stavanger Race, but they put me in the touring class. The day came with very light and flimsy winds, and the starting line was moved away from the congested Vågen. The start was 'Gunder' method, ie the slowest boats start first and the fastest last, figured from the handicap. There was some fighting for space at the finish... Starting first in the touring class I could enjoy looking at it all from the stern. The race was straight out and in. Out was a port tack leg that allowed me to sail straight to the mark without tacking. I rounded the mark in 10th position from 32 contestants, and was looking forward to a reach home. The wind died a bit and became even more flimsy. I really had to work the sheet to keep the sail working with such little wind. I managed to keep my position and came in 10th overall, 2nd in class. At the prizegiving dinner I heard somebody mumbling "letting in the serpent". Big Smile. There was much interest in the rig, and many questions. I told them that the only way to understand the efficiency and easy handling of a junk is to come and sail Marie G."

Marie G, third race, September 2012
"The race was around Kvitsøy, an archepelago west from Stavanger consisting of a thousand islands and rocks. Very nice to anchor in, and very nice to sail around in a summer breeze. Today it was not a summer breeze, it was 22-26 knots wind, heavy swells from west and confusing waves from the south west, whipped up by the wind. Marie G performed well until we went out to sea. The race was more of taking care of the boat and my seasick wife. Rounding the south end of the islands gave us a good reach with waves from behind. The next rounding mark gave us a dead run - I could use full sail again. We had one yacht behind us, an Albin Nova, and despite her using a spinnaker, she could not catch us, and that was the position going around Tungenes and into sheltered water to the finishing line. I crept up on a few yachts, but could not overtake any of them as they where too far ahead. A good day's sail in heavy seas against the wind, with not a too bad result."

Marie G, fourth race, September 2012
"Yesterday was a great day for us junkies! On racing day, the weather was too nice. The race started at 1 pm with 4 knots wind from behind. Spinnaker starts are always interesting (of course I don't need one) so, after making a good start, I had a great wiew of the ongoing dramas while I had an easy job, letting out the sail and leaving it to the autopilot. The best sailed boats left me behind, but most of the boats could not sail away from Marie G. Well, I thought, as I turned the mark onto a tight reach - all good things must end. The wind picked up, and it became quite sailable. Spinnakers were now no use, but the junk sail really came into the right groove, and I could play 'catch up and run away from'. The next turning point gave us all a headwind. I did not look forward to that, but I was astonished at how well I could keep up. I was passed by an Elan Impression 384, but managed to keep a First 375 at bay. The route was up a narrow sound, with the wind from the side in catabatic turbulence. I entered the sound as the first of 3 boats. A better demonstration of the superiority of our rig could not be asked for. I gained more than 200 meters lead in a 500 meter sound. No wonder the Chinese used the rig on rivers! From the sound it was a run to the next turning point and a beat to the finishing line. The wind had increased and was now a healthy 18 knots, and Marie G did fine, passing the finishing line as number 6. Having 9 competitors behind left me with a very warm feeling. I am sailing with too high a handicap, but that did not prevent me from taking 1st place in the tourers' class. I have said it before, and now it is proven: if spinnakers are not used, our junk rig is superior!"

Marie G, fifth and sixth races, October 2012
"The weather was showery, 10-13 degrees Celsius, and cold. The wind was southerly 16-24 knots. As the race would be downwind, the start was organized with a first leg upwind. I came out of the start last, but had a good beat to the turning point and turned as the third from last boat. The next leg was a fairly close reach and Marie G really shone and overhauled three more boats. From the next leg it was a run with the wind - boats not using their spinnakers were left behind. The wind was not strong enough to get MG to surf exept in the squalls. 19 boats started, and only 3 singlehanders. 16 two-handed boats could set their spinnakers and fly. At the end of the race Marie G finished in 15th place, 2nd in the singlehanders class, and looking at the opposition I was quite pleased. The evening was of the social kind, wining and dining, bragging and lying... The next day's race was the sail home - same weather as the day before, which meant a long hard beat - the moment of truth. I managed to keep 3 boats behind me and, after 4 hours and 27minutes I had lost just 20 minutes to 2 boats that I use as a guide (LYS handicaps of 1.21). They are both well sailed, and I figured out that the junkrig of Marie G has a 9.3% handicap when going to windward, and a 4.2% handicap against a spinnaker-sailed boat running. Sailing without spinnaker gives Marie G an advantage of 4-5%, and in a reach even more. I find these numbers very interesting, and they support my vision that 90% of cruisers should be better off with a junkrig, period. It is now a long time to the next race, 2nd of December. That leaves me enough time to wonder whether a split junk rig would perform better..."

Summing up the season
I would like to say that junk rig is highly adaptable to high performance yachts. I had doubts about converting my X-99, but I now have a very sail-able boat under me. She is so beautifully balanced, soothing, manoeuvrable, and whispering fast. Sailing her is truly rewarding.
Bonne lecture,
laurent